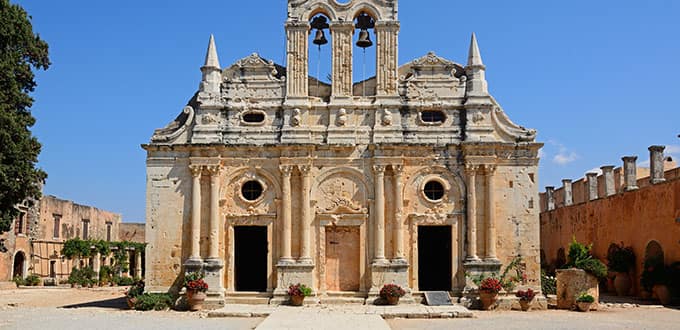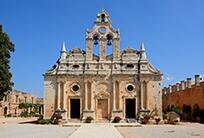 Arkadi & Rethymno
La Canea, Creta, Grecia
Duración 5 horas
Immerse yourself in Cretan history by touring a 16th-century monastery in the countryside and neighboring Rethymno, a town of Venetian origin.
Depart from the pier and drive east onto a fertile plain where the acclaimed Arkadi Monastery was built in 1587. Constructed of honey-colored stone in a Renaissance style, the monastery has played a significant role in Cretan history. It has long been a pilgrimage site and a symbol of resistance after being attacked by Turkish troops in 1866. Many of the items from that conflict, including weapons and military banners, are proudly displayed in the monastery's small museum. There are also a number of religious objects, the highlight being a 17th-century vestment embroidered in gold that depicts Christ and the 12 disciplines.
After visiting the monastery, you will drive to nearby Rethymno, a coastal city with an abundance of restored buildings from the 16th century. The harbor is Venetian, the streets narrow and charming, and the history rich.
While exploring, you might see Rimondi Fountain in Platanos square, several beautiful mosques, and the fragrant municipal gardens. The Fortezza castle dominates the landscape as it has since 1590, when it was built to protect Rethymno from pirates and Turks. Following your guided walking tour, you'll have some free time to further explore on your own before returning to the pier.
Lo que debes saber:
Note: This tour includes approximately 2-hours of moderate walking/standing plus any additional walking at the guests' discretion during free time. There are some uneven surfaces and steps to negotiate. The tour is not available to wheelchair guests. Those guests with mobility concerns are cautioned only to participate to the extent of their personal stamina and ability and may make arrangements with the guide to not participate in some of the walking portions of the tour. Weather appropriate clothing; sun cap; sunglasses; a bottle of water from the ship; and flat, comfortable walking shoes are recommended.
Adult from: $1,504.76 MXN
Child from: $1,504.76 MXN